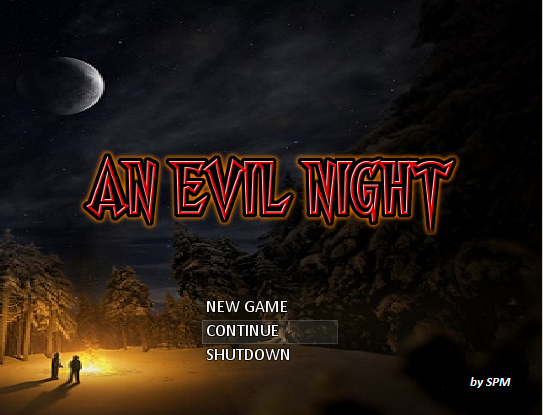 An Evil Night
Michael and Isaac are off for a weekend vacation trip to Pluckley, a village in the southeastern part of England, where Isaac was born. Isaac knows that the fastest way to travel requires them to cross certain woods with a bad reputation: Dering Forest. Neither of them are really scared about the hearsay that this apparently beautiful piece of vegetation is actually cursed, as it's nickname among the habitants of the county is actually "The Screaming Forest".

One day is all the time they need to get past these woods, so they march on. Everything goes fine until Isaac gets lost, and an evil night begins...


An Evil Night is a short old school dark horror game meant to last about an hour.

If you like Lovecraft legends... you will enjoy this even more. ;)
Install instructions
There are two files, one with the RTP included and the other not. The RTP is needed to play, so choose which suits you better.

Comments
Log in with itch.io to leave a comment.
Pretty fun stuff, liked the Lovecraftian vibes!
Hello to all!!! I finally got some time to top off the final version of the game, 1.1 which is now [b]live[/b] and ready to download!!!
These are the things that have been changed/added:
- Fixed a couple of bugs on transparent walls in the Tomb zone.
- Fixed some mispelled dialogs (sorry) and added new ones (specially at the end).
- Added one extra ending!!! [b]This makes 5 possible endings.[/b]
As I said before this will most likely be the final release, so I hope you enjoy!!
By the way there is a [b]Spanish version[/b] coming up in a couple of weeks dedicated to my home country :D
Nothing more to say, as always feedback and opinions are really welcome and will be treated wisely. See you around!!!! ;)